Sidebar
Best Disposables of 2019
Best Disposables of 2019
As we start to approach the end of the year I think it's a great time to take a look back at some of the best selling pod devices this year. Each of these disposable devices has seen a surge in popularity over the past few years and they're guaranteed to fly off your shelves as fast as you can stock them. These disposable devices are perfect a perfect product to push for new time customers and cigarette smokers on the fence about switching to vaping. Their ease of use and approachability for non-users to pick up quick and enjoy with little direction or instructions.
With these easy to use devices on your shelves, you won't have to worry about scaring off potential customers with massive triple battery box mods. Now you can show off a pocket portable device that vapes almost exactly the same way as the cigarettes they're used to. Let's take a look at some of the best disposable devices you can stock!
5. HYPE BAR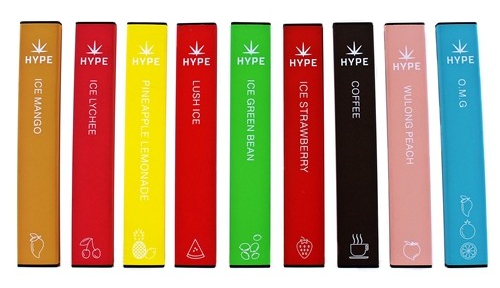 A decent enough disposable but the name seems to have backfired on them because nobody is talking about this device at all. Available in a variety of flavors like Wulong Peach, Blue Raz, Boba, and others. This one utilizes 5% Salt Nicotine (50MG) and features a 1.3mL capacity and around 280mAh of battery charge. With a battery that small you can expect this device to last about 4-6 hours under heavy usage, users who vape less might get around 1-2 days of usage out of it.
4. STIG

One of the older disposable devices, the STIG disposable vapes hit the market around 2018 and took the world by storm. Their ease of use and availability made these devices a best-seller among gas stations and convenience store customers. The STIG disposables are filled with 1.2mL of Salt Nic at 6% or 60mg. This higher nicotine rating makes the STIGS a bit stronger than most of the other disposable devices, but delivering that satisfying feeling to customers quicker means most heavy users prefer the STIG over other disposables. Available in several flavors including VGOD branded flavors like Cubano and Mango Bomb.
3. TWST

TWST comes to us from the makers of Lemon Twist, one of the best-selling E-Juice brands worldwide and their iconic flavors came along for the ride as well. While these TWST disposables are still relatively new I have a feeling by this time next year they're going to be one of our best sellers. As far as disposable flavors go I'd say these TWST devices are some of the best-tasting ones on the market right now. The only issue that's holding these back from being #2 is that there's only 1mL of 5% Salt Nic Juice inside these devices. But if you've got customers who are extremely picky about vape juice flavors I'd say stock a few of these for them.
2. MOJO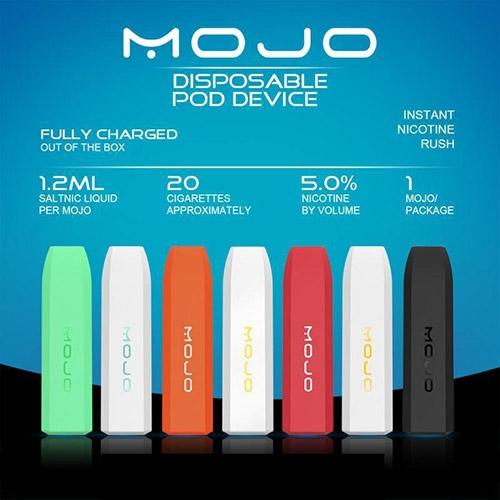 A revolutionary pod style vape device designed to replace traditional tobacco usage with a healthier alternative. This device is compact, measuring less than 3 inches long, and perfect for vaping on the go. The intuitive design of the Mojo makes it an easy device to use for smokers transitioning to vaping. MOJO pods are filled with 1.2mL of 5% (50MG) Salt Nic vape juice and come available in about 12 different flavors including Cool Melon, Cubano, Watermelon Strawberry, and many more. You can even buy them in triple packs to save on unit costs!
1. PUFF BAR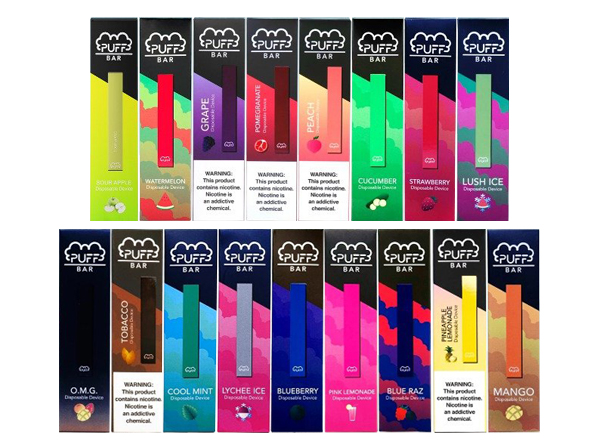 The PUFF bars have been our number one best-seller in the disposable device segment ever since they hit our warehouse. In fact, these ones are moving so quickly we've been scrambling to buy them fast enough to keep them in stock for all of you! The PUFF bar flavor lineup is so expansive they've got almost 20 flavors out on the market right now. That includes best selling flavors like OMG, Blue Razz, Grape, Lychee Ice, Pink Lemonade, and more. With all those flavors to choose from its no wonder they've been so successful, variety is the spice of life after all! These disposables are filled with approx 1.3mL of 5% Salt Nic juice and come charged with a 280mAh battery. If you're looking for a product to turn smokers into vapers than the PUFF bar should be front and center in your store.